Beers and matches. Ten Pubs to eat and watch Serie A football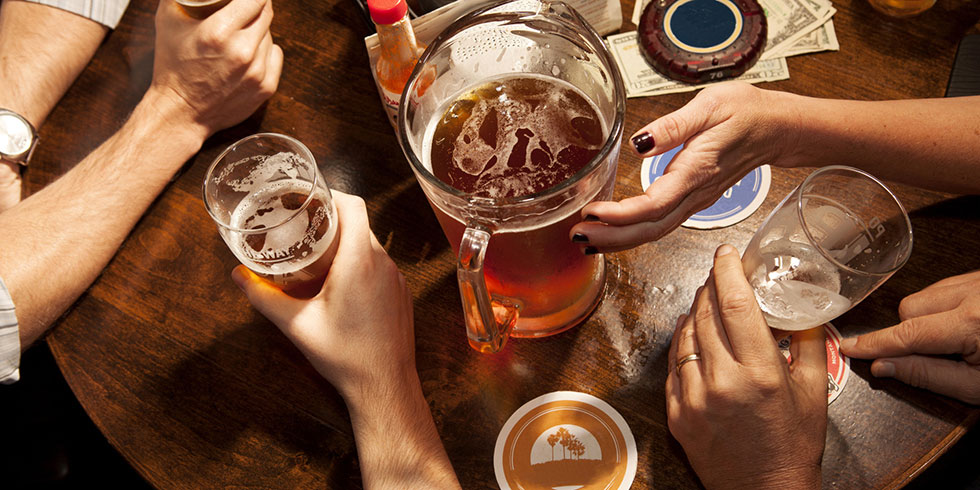 Wondering where to see the game but never know where to do it? Do you want to see sport in good company but don't know any clubs near home that offer you this possibility? In this regard, Milan offers countless solutions for all different needs: both for those who want to drink just one beer and for those who prefer a real dinner.
So, here is a list of 10 places where you can watch Serie A matches and cheer on your favorite team.

WHERE TO SEE SERIE A AND CHAMPIONS LEAGUE MATCHES IN MILAN?
442 Sports Pub

Carlsberg Øl

The Murphy's Pub
Re Artù
Pils Pub
HoF
Offside Sports Pub
Santa Monica Café
Exotic
Enoteca Bibendum Baladin
442 Sports Pub, via Procaccini 61
It is one of the sports pubs par excellence in Milan. Located in the Procaccini area, it offers a real atmosphere typical of English pubs, with walls covered with scarves and coats of arms. In addition to Serie A matches, it is possible to see foreign leagues, American football, rugby and major sporting events in general.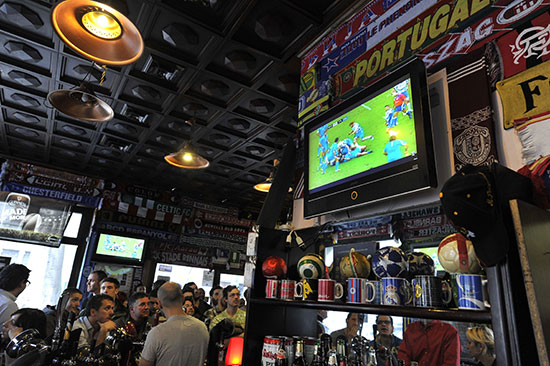 Carlsberg Øl, Bastioni di Porta Nuova 9
At the Bastioni di Porta Nuova is the Carlsberg, a rustic-looking pub that offers the opportunity to savor Italian dishes, but also pizza and snacks. Offers a large variety of beers with periodic new specials. The venue is large and is equipped with numerous screens arranged throughout the room.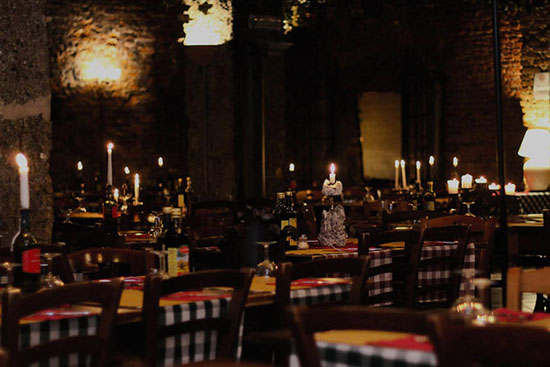 The Murphy's Pub, via Montevideo 3
Typical Irish pub, it offers high quality beer and a great pie. The venue gives you the opportunity to watch all football, rugby, basketball, hockey matches, as well as F1 and MotoGP races live on a 105-inch mega-screen.
Re Artù, corso Lodi 52
A medieval-style bar where you can enjoy hamburgers, sandwiches and all kinds of aperitifs. There is also a wide choice of beers. The restaurant is equipped with numerous screens.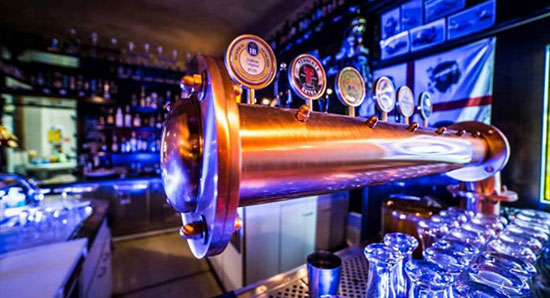 Pils Pub, via Bertani 2
Located a stone's throw from the Arco della Pace, it was born as a real sports bar, where large screens offer live coverage of all sports and beers are never lacking. In addition to this, it also offers a wide range of food, making it a suitable place for women as well.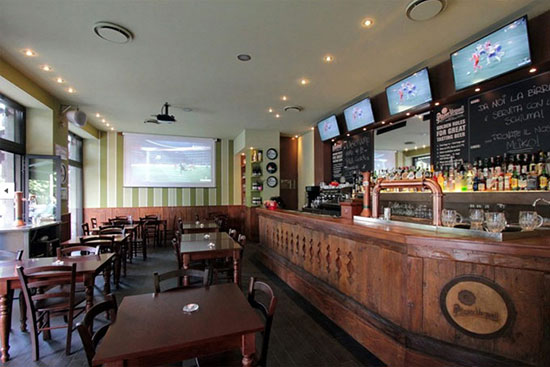 HoF (Hall of Fame Sport Bistrot), piazza Piemonte 8
Referred to as the quintessential bistro sport, Hof offers a huge range of sports for you to see. In fact, you can find all the Italian football, the European championships, rugby, golf, American football, tennis, hockey and much more. The peculiarity lies in the fact that the televisions are independent and it is therefore possible to choose the sport to watch. Hof also offers strictly Italian meat, quality beers, wines with an excellent quality - price ratio and cocktails.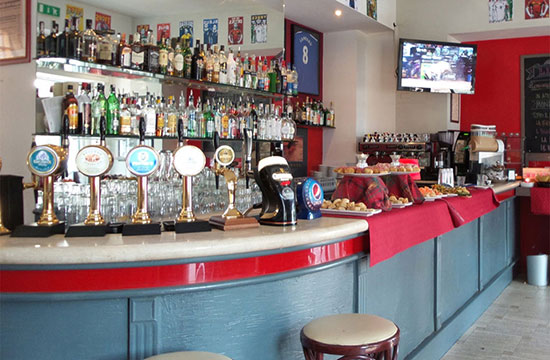 Offside Sports Pub, via Losanna 46
All major sporting events projected on seven large screens, all surrounded by whiskey, craft beers and cocktails in a truly warm and familiar atmosphere.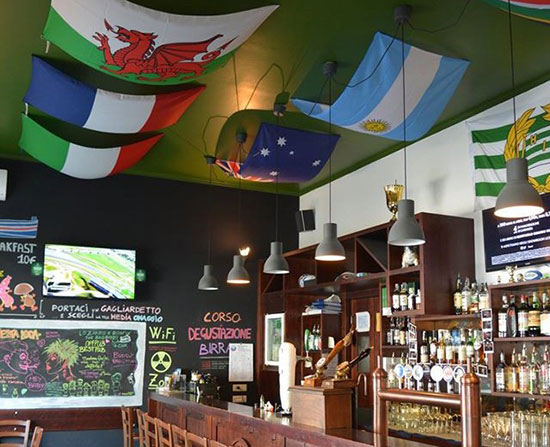 Santa Monica Café, piazzetta Pattari 2
Located one minute from Piazza del Duomo, the Santa Monica Café catapults you to California, with 1950s décor, burgers and Tex-Mex food. All football matches are also broadcast and on Fridays and Saturdays there is karaoke night.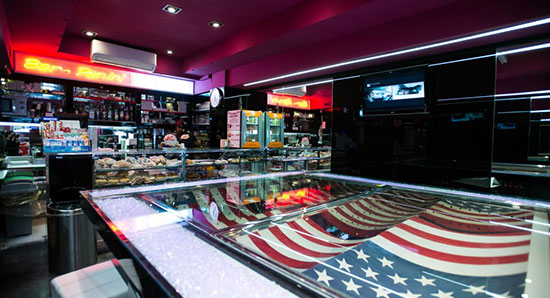 Exotic, viale Bligny 21
Thanks to the three-hundred-inch large screen, you won't miss a single action. The aperitif is also excellent and the restaurant offers a wide choice of cocktails.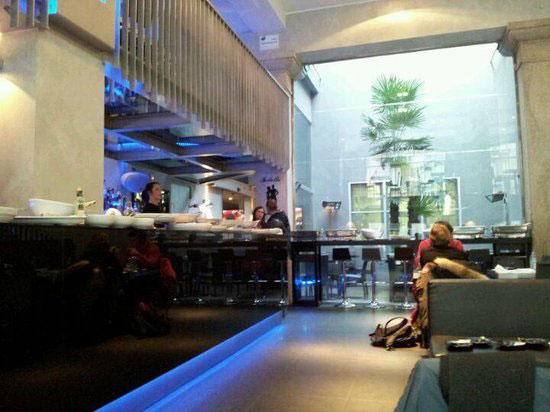 Enoteca Bibendum Baladin, via Ristori 2
If you are looking for a good wine or even a simple beer in an informal and comfortable place, Bibendum Baladin is the place for you. Excellent cuisine, with the possibility of savoring cold cuts, cheeses, carpaccio and tartare, but also first and second courses as well as of course the opportunity to see Champions League and Serie A matches.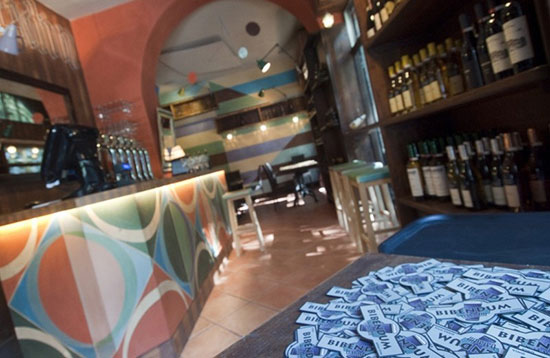 We also recommend reading the specials on citydoormilano dedicated to 10 winter cocktails not to be missed and 10 restaurants in Milan perfect for Valentine's Day.

Tag: