Vota ora
Giudizio degli utenti:





4.5
/5
(2 voti)
Professionalism and well-being in the heart of Milan Fieramilanocity
The For-Med Aesthetic Medical Office in Milan is renowned for the high quality of its services in the field of Aesthetic Medicine.

The Medical Aesthetic treatments offered by the Center range from Laser for permanent depilation to mechanical massage sessions with latest generation machinery, to Radiofrequency for Collagen stimulation and last but not least the equipment for remodeling the silhouette and eliminating fat excess.
Some examples
AW 10 plus
Mediostar Kobra photorejuvenation
Ioniflex
Permanent hair removal MEDIOSTAR NEXT XL
Icoone treatments
Radiofrequency Visage Care Top RF
Cavitation CULTRA
The Firm also offers services in Medicine, Surgery and Wellness with Specialists in the sector:
Orthopedics
Venereology
Dermatology
Hearing
Osteopathy and Kinesiology
Hydrocolon therapy
Melanoma surgery
Naturopathy
Plantar reflexology
Nutrition and diet
Gynecology
Vascular surgery
Cosmetic Surgery
It is possible to make an appointment with the specialist of reference and get a personalized consultation.
Info & contacts
Office hours:
Monday - Friday from 9 to 19
Where we are
WELFARE > Dietetics, Lymphatic drainage, Food intolerance, Naturopathy, Nutrition
SURGERY > Vascular surgery, Oncological dermatology - melanoma surgery
HAIR REMOVAL > Permanent hair removal
AESTHETIC MEDICINE > Medical beauty center, Cosmetic surgery, Medical epilating laser, Massage therapy
ORTHOPEDICS > Orthopedic visits
PROFESSIONALS > Dermatologist, Osteopath, Podiatrist
REHABILITATION - PHYSIOTHERAPY > Kinesio taping, Osteopathy
HEALTH SERVICES > Hearing prosthesis, Hydrocolon therapy
SPECIALIST > Dermatology, Gynecology, Orthopedics and traumatology, Venereology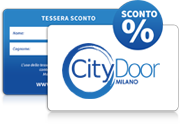 They adhere to the CityDoor convention.
10% discount on services

They adhere to the promotion
EXTRA DISCOUNT FOR YOUR BIRTHDAY
Extra 10% off
the day of your birthday