To give life to Red Carpet are three members (Alessia, Bibiana and Barbara) full of enthusiasm, ideas, passion and love for the pet both as owners of dogs and cats and as professionals in the field.
With more than fifteen years of experience in the dog world, as volunteers in kennels, they have participated in numerous training courses and internships that over the years have trained and educated them to better understand and respect the animal world. Alessia is also an educated dog trainer Ficss, all three trained by Pet Therapy, kennel operators, dog sitters and cat sitting, Barbara the groomer is in continuous training and updating on her profession.
Cognitive-zooanthropological method
The activity is based exclusively on the zoo-anthropological cognitive method, that is on methods that are sweet and respectful of the nature of dogs or cats, for example during grooming methods are never used coercive or even violent.
Welcome and competence are the strengths. Red Carpet offers an accurate and expert service for dogs of all sizes.
Grooming
The grooming is one of the key points of Red Carpet because of the method used. Barbara will take care of your dog or cat in a cozy grooming room.
No chains are used, dogs are not tied and the blower is not used. The moment of grooming must be experienced as a game and not as a moment of discomfort whether it be dogs or cats. You work with a single animal at a time so as not to create situations of tension.
In addition to washing, it is possible to perform shearing, stripping, scissor cutting, nail cutting, tooth cleaning.
Shop and other services
Red Carpet is also a well-stocked pet shop where you can find lots of items for your four-legged friends.
Maintenance foods, dietetic and medicated foods, care and cleaning products, fashion accessories and toys: everything for the health and fun of animals. Home delivery service is also available.
In addition, Red Carpet provides a vast amount of services from dog sitting to cat sitting to not leave your pet alone, the pet-taxi to take them wherever you need them. Also available a boarding house service not only for dogs and cats but also for other pet friends (rabbits, turtles etc), without cages and with specialists in the field.
Finally, if you have to marry and you want your pet with you you can do it with the Wedding dog service! Your "puppy" will be followed in all respects by the staff.
Info & contacts
Timetables:
Monday from 15:30 to 19:30
Tuesday to Saturday from 10:00 to 13:00 and from 15:30 to 19:30
Services
grooming

wash

stripping

scissor cut

nail cutting

teeth washing

shop and home delivery

dog

-sitting

cat

-sitting

pet

-

taxi

home boarding (dogs, cats and other animals)

wedding dog
Where we are
Training
SHOPS > Articles and foods
SERVICES > Dog sitter, Pet Sitter, Grooming, Transport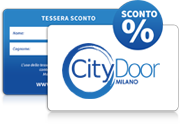 They adhere to the CityDoor convention.


They adhere to the promotion
EXTRA DISCOUNT FOR YOUR BIRTHDAY
10% Discount
the day of your birthday