Tabletennis in Milan: clubs and facilities where to play
Table tennis in Milan and its province: kind readers of Citydoormilano.it, in this special we take you to discover the Milanese tennis world.Here you will find the complete list of companies and facilities in which to play pingpong.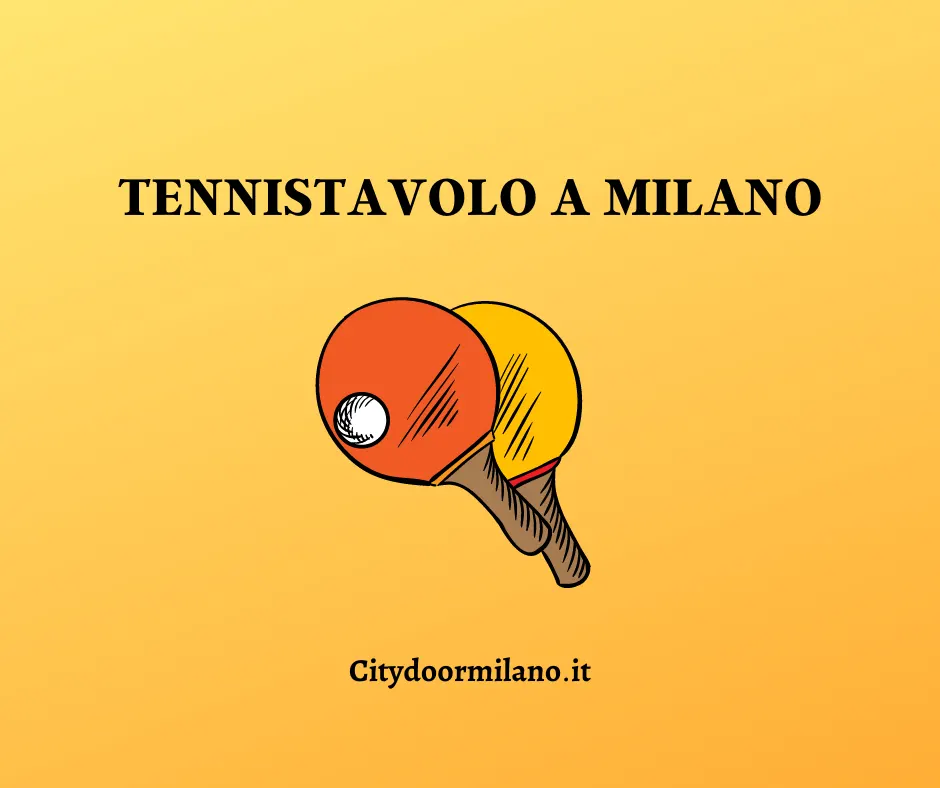 TABLETENNIS IN MILAN AND PROVINCE: COMPANIES AND FACILITIES TO PLAY IN
In this list, taken from the FITET Lombardia website, there are therefore twenty-five table tennis teams divided between Milan and the province (Arese, Assago, Binasco, Cassano d'Adda, Cernusco sul Naviglio, Cornaredo, Lainate, Melzo, Nerviano, Paderno Dugnano , Parabiago, Pieve Emanuele, Pioltello, San Donato Milanese, Sesto San Giovanni, Settimo Milanese, Trezzano sul Naviglio and Turbigo). Here are also some notes on some of the main systems.
CENTRO SPORTIVO BONACOSSA - VIA MECENATE 74, MILANO
The Bonacossa sports center is a federal FITET center, managed by the SSD Milano Sport Tennistavolo. The structure has twenty-five fixed tables cordoned off with balls already present in each table and free rackets and balls for beginner students or for anyone who wants to play freely. The minimum brightness is lux 300. The facility is open from Monday to Friday from 9 to 23, while the opening hours for Saturday and Sunday are from 9 to 19. The table tennis school has five federal technicians and courses of initiation, improvement and training are for children, teens and adults. Table tennis summer camps and various open days are also organized. To book a field, call 025061277 or, for more info, you can also write an email to staffmilanosport_tt@centrobonacossa.com.
PALABOVISA - VIA MAFFUCCI, MILANO
The PalaBovisa is located in the OGP oratory and is managed by the Blue Eagles Table Tennis company. Seven fixed tables are available to players and the team organizes training courses for all ages. Hours: Tuesday to Friday between 5 and 11 pm. Competitive athletes must reserve their table by booking. For more info, you can contact PierOffedi. Telephone: 0239312736. Mobile: 3358344397. Mail: offredi@finishing.it.
PALESTRA CIRCOLO UNICREDIT - VIALE LIGURIA 26, MILANO
Managed by the company Circ. Pingpong 1973 ASD Unicredit, the facility is reserved for amateur table tennis from Monday to Friday between 16 and 20. The competitive activity takes place on Saturday (15-20) and Sunday (9-16). For more info, contact Rudy Forneris at 3209484574 or by email at the address pingpong1973@hotmail.com.
PALESTRA SCUOLA ELEMENTARE TURATI - VIA S. ANGELO, TREZZANO SUL NAVIGLIO
Structure managed by Polisportiva Trezzano, offers training courses for all ages both in the amateur and in the competitive field. The gym is open Tuesday from 18 to 22 and Thursday from 18 to 23. For more info, call 3337514272 or send an email to .info@tennistavolotrezzano.it.
PALESTRA TT SILVER LINING - VIA MELCHIORRE GIOIA 193, MILANO
The TT Silver Lining gym is located in the parish of Santa Maria Goretti and is managed by the company of the same name. The facility has eight fixed tables and the association organizes training courses for all ages and all levels. Hours: Monday to Friday from 5pm to 11pm. For more info, contact Luca at 3460143980 or by email at
ttsilverliningasd@gmail.com.
For fans, we recommend visiting our section dedicated to racquet sports, where you can find numerous interesting information on tennis, padel, badminton, pelota and squash.
To learn more about the world of table tennis, we invite you to visit FITET Lombardia's website.