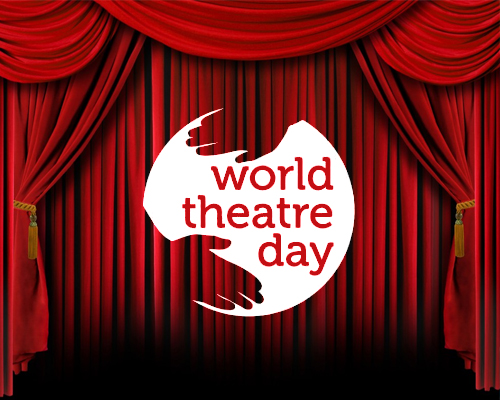 World Theater Day





World Theater Day was created in Vienna in 1961 during the IX World Congress of the International Theater Institute on the proposal of Arvi Kivimaa on behalf of the Finnish Center. From March 27, 1962, World Theater Day is celebrated by the National Centers of I.T.I. that exist in a hundred countries around the world.

The International Theater Institute was created in 1948, on the initiative of the U.N.E.S.C.O. and of famous personalities in the field of theater, and is the most important international non-governmental organization in the field of the arts of the scene.

The I.T.I. seeks "to encourage international exchanges in the field of knowledge and practice of the Arts of the Scene, to stimulate creation and to broaden cooperation between theater people, to raise public awareness of the consideration of artistic creation in the field of development, to deepen mutual understanding to participate in the strengthening of peace and friendship among peoples, to join in the defense of the ideals and goals defined by UNESCO ".
World Theatre Day
Read our article (italian): www.citydoormilano.it/festa-mondiale-teatro-2019
Here are the authors of international messages from 1962 to today
2021 Helen Mirren
2020 Shahid Nadeem (Pakistan)
2019 Carlos Celdràn
2018 (70th anniversary)
– Simon Mc Burney (Gran Bretagna – Europa)
– Sabina Berman (Messico – Americhe)
– Were Were Liking (Costa d'Avorio – Africa)
– Ram Gopal Bajaj (India – Asia e Pacifico)
– Maya Zbib (Libano – Paesi Arabi)
2017 Isabelle Huppert
2016 Anatolij Vasiliev
2015 Krzysztof Warlikowski
2014 Brett Bailey
2013 Dario Fo
2012 John Malcovic
2011 Jessica A. KAAHWA
2010 Judi DENCH
2009 Augusto BOAL
2008 Robert LEPAGE
2007 Sultan bin Mohammed AL QASIMI
2006 Victor Hugo RASCON BANDA
2005 Ariane MNOUCHKINE
2004 Fathia EL ASSAL
2003 Tankred DORST
2002 Girish KARNAD
2001 Iakovos KAMPANELLIS
2000 Michel TREMBLAY
1999 Vigdís FINNBOGADÓTTIR
1998 50th Anniversary of ITI - Special Message
1997 Jeong Ok KIM
1996 Saadalla WANNOUS
1995 Humberto ORSINI
1994 Vaclav HAVEL
1993 Edward ALBEE
1992 Jorge LAVELLI - Arturo USLAR PIETRI
1991 Federico MAYOR, Director General of UNESCO
1990 Kirill LAVROV
1989 Martin ESSLIN
1988 Peter BROOK
1987 Antonio GALA
1986 Wole SOYINKA
1985 André-Louis PERINETTI
1984 Mikhaïl TSAREV
1983 Amadou Mahtar M'BOW, Director General of UNESCO
1982 Lars af MALMBORG
1981 national messages
1980 Janusz WARMINSKI
1979 national messages
1978 national messages
1977 Radu BELIGAN
1976 Eugène IONESCO
1975 Ellen STEWART
1974 Richard BURTON
1973 Luchino VISCONTI
1972 Maurice BEJART
1971 Pablo NERUDA
1970 D. CHOSTAKOVITCH
1969 Peter BROOK
1968 Miguel Angel ASTURIAS
1967 Hélène WEIGEL
1966 René MAHEU, Director General of UNESCO?
1965 Anonymous/Anonyme
1964 Laurence OLIVIER - Jean-Louis BARRAULT ?
1963 Arthur MILLER
1962 Jean COCTEAU