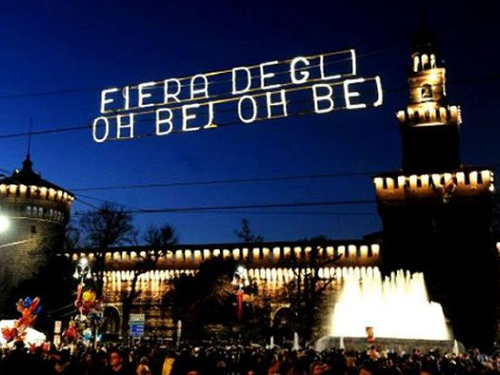 Fair oh bej oh bej





The Oh Bej OH bej Fair is now a tradition of the city of Milan. It is organized on the Sant'Ambrogio bridge, patron saint of the Lombard capital, and on the feast of the immaculate conception. This year it will start on 6 December and will end on 9 December with opening from 10.00 to 22.30.

The fair is made up of both traditional stalls and more disparate ones, all in the frame of the Sforzesco Castle.
It's not Christmas in Milan without the OH Bej Oh Bej fair, one of the most popular events among the Milanese.
Oh Bej Oh bej Fair: origin of the name
The name of the Oh Bej OH bej fair actually comes from 1510, it seems to come from an exclamation of joy from the Milanese children at the entrance to the city addressed to the papal envoy Giannetto Castiglione who brought them gifts. In Italian it means Oh belli, oh belli.

The event remained until 1886 in the surroundings of the Basilica of Sant'Ambrogio which, for the feast of the patron saint, was festively decorated.

In 2006 it was moved to Piazza Castello where it takes place again this year.
Available 25,000 square meters with about 400 exhibitors: second-hand dealers, florists, prints and books, wrought iron, copper and brass, toys, painters, sweets and traditional roasted chestnuts accompanied by the inevitable mulled wine.
Oh Bej Oh bej Fair: how to get
Being a central location, getting to the oh bej oh bej fair is not that complicated especially if you use public transport.

Underground
Red line (M1): Cairoli and Cadorna FN
Green Line (M2): Lanza and Cadorna FN
Tram
Lines 1, 2, 4, 12, 14, 27
Autobus
Lines 50, 57, 58, 61, 94
Bikemi
Stazione 3 - Cadorna 1, 84 - Cadorna 2, 94 - Cadorna 3, 4 - Lanza, 101- Gadio Paleocapa, 263 - Castello
Auto
Exit Milan center
However, the use of public transport is recommended, leaving the car in the peripheral car parks near a station in order to take public transport.